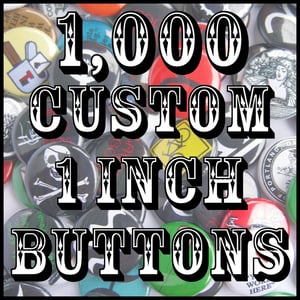 $

220.00
***DO NOT ORDER FROM HERE! ORDER FROM MY NEW SITE, PORTLAND BUTTON WORKS. MORE SIZES! MORE QUANTITIES! PICK UP AT OUR PORTLAND BRICK AND MORTAR STORE! ***
Do you need promotional buttons for your band or project?
I have been making custom 1" and 1.25" buttons In Portland, Oregon since 2000 for bands, schools, nonprofits, crafters and other various projects from quantities of a single button to up into the tens of thousands.
WHAT YOU ARE GETTING FROM ME:
1000- 1" buttons with up to 50 designs printed with a color safe and water resistant laser printer on 100% post-consumer recycled 28 lb. laser paper, and fully assembled with parts made in the U.S.A. and in the mail in between 2-5 day. These buttons will be stored in a recyclable bag and shipped in recycled material when possible.
What you need to do:
-If you would just like a simple line of words on a button just let me know the color and kind of font you are looking for and I can create a simple design for you to approve.
-If you would like more detail than simple words on a buttons you will need to create your own image within my template. If you have artwork in another template that will probably be fine too.
To create your own image:
I will e-mail you a template after your purchase
or
e-mail me alex(AT)smallworldbuttons(DOT)com for a template and instructions if you would like to play around with it first.

You can use a program as simple as Paint or as complex as Photoshop, Illustrator, or InDesign. (I use GIMP, it is an open source program and is very similar to Photoshop, except that it is free!)
ARTWORK SPECIFICS:
HOW MANY DESIGNS CAN I HAVE?
UP TO 50
HOW BIG SHOULD THE IMAGES BE?
1.3" x 1.3" and 300 dpi/ppi.
WHAT KIND OF FILE TYPES DO YOU ACCEPT?
I can accept most file types like: .jpg .gif .pdf but I prefer .tif
HOW LONG WILL IT TAKE?
Once you send the artwork back to me, I'll print the art, assemble the buttons and ship them out to you within days. If you are in Portland you can arrange to pick them up in North Portland.
If you need larger quantities let me know! I can also make 1" and 1.25" magnets. Check my other listing for 1" and 1.25" pin back buttons in different quantities.
If you have any questions please feel free to contact me!